by Kristen L. Rouse
I hope everyone is getting fired up to make a difference in this year's elections! Veterans and veterans issues are center stage for both parties this year, and we encourage veterans & family members of all political affiliations to get active in the process! Presidential candidates get the limelight with the conventions in Cleveland and Philadelphia—but remember there are more than 33,000 elected offices nationwide, and nearly 100 in NYC alone--many of which are on the ballot this fall.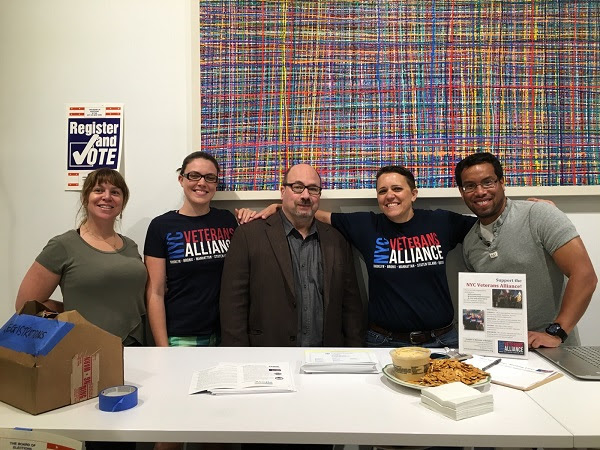 ARE YOU REGISTERED TO VOTE?
"Super Tuesday" Voter Registration and Demo. Tuesday, July 26, 12:30-2 PM. The deadline to register to vote in New York for the September 13th NY State & NYC Primary is quickly approaching (if you're not currently registered), and we're holding our monthly voter registration drive at Civic Hall next Tuesday, where we'll feature how to learn more about who's on the ballot in September, and a demo of our latest programs and projects at the NYC Veterans Alliance. Last month, Craig Newmark, founder of Craigslist, stopped by to show his support—who will be there this month? YOU, we hope! All are invited, but please RSVP.
If you can't make it, learn more about registering to vote in New York or elsewhere in the U.S. 
EVER HEARD, "YOU SHOULD RUN FOR OFFICE"?
If anyone's ever suggested that you run for elected office, or if you've ever watched a political campaign and said to yourself, "I could do better"—then we encourage you to listen to those voices and take some simple steps to think about this further, learn more about what's involved, and be part of our developing Get Ready to Run program! Here are those steps:
1.

Look Up Offices Where You Live
. Take a look at offices you're eligible to run for based on where you live, whether in NYC or elsewhere in the U.S., and learn when the next election cycle is happening for each of those offices.
2.

Get Free Online Training
. Our partners at NationBuilder have created a series of online seminars that are totally free and easy for you to access that explain the basics of setting up a campaign, engaging supporters, understanding voters, recruiting and utilizing volunteers, holding fundraisers, and developing a campaign plan. 
3.

Sign up for Get Ready to Run!
Last March, we piloted our
first cohort of veterans
we sent to Washington, DC, for four intensive days of training, networking, and support for running for office. In June, we sent our first group of women veterans and spouses to
VoteRunLead's leadership conference
. And this is just the beginning! If you're a veteran, spouse, family member, service provider, or other member of the NYC veterans community, we invite you to sign up to participate in our Get Ready to Run program. We'll target specific opportunities to veterans and spouses, but all are welcome to participate in the year-round program we're developing. Sign up
here
!
Do you like this post?