The NYC Veterans Alliance was featured in the Gotham Gazette article listed below, written by Samar Khurshid: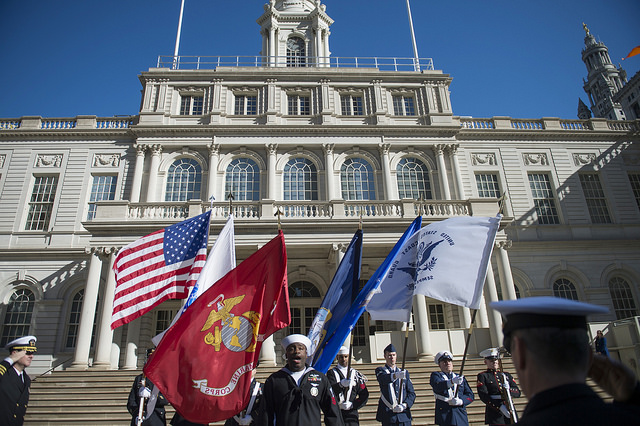 photo: Ed Reed/Mayoral Photography Office
---
In December, Mayor Bill de Blasio signed into law the City Council bill creating a separate, dedicated Veterans Affairs department which would take over responsibility from the Mayor's Office of Veterans Affairs (MOVA) in handling services for more than 200,000 military veterans living in New York City.
By law, the new department will be official on April 10 and the fiscal year 2017 budget being negotiated between the de Blasio administration and the City Council will outline its first agency allocation and spending plan. The city's fiscal year begins July 1.
As part of ongoing Council hearings on the mayor's $82 billion preliminary budget, the new veterans affairs department was scheduled for a session on March 21. As is usually the case in such hearings, where agency heads and other administration officials testify before a Council committee, MOVA Commissioner Loree Sutton would have testified, Council members would have asked her questions, and advocates and members of the public would have aired their concerns.
But, owing to the transition of veterans affairs from the Mayor's Office to a full-fledged department, the hearing was deferred. "It doesn't officially become a department in name till April 10," said Joe Bello, a member of the city's Veterans Advisory Board, "and it doesn't become a real department budgetary-wise till July 1. So there was really no preliminary budget to discuss."
The Council veterans affairs committee's preliminary budget hearing couldn't really occur because the mayor and his budget office had not established a budget for the new veterans affairs department in the initial spending plan.
Instead, it will be taken up when the administration and City Council get down to brass tacks during executive budget negotiations. The Council will soon release its preliminary budget response, which will trigger closed-door discussions and lead to the mayor's release of his revised spending plan later in April, followed by another round of hearings. The new veterans department is expected to be included in the executive budget and to have a budget hearing thereafter.
Last year, the MOVA budget was $1.9 million, up from $600,000 the previous year, "the largest increase in its 29 year existence," according to the VAB's annual report.  Between January and July 2015, MOVA's full-time staff increased from six to 20.
The administration is also doubling down on its commitments through other initiatives. In late March, the first veterans affairs satellite office opened in Queens. Then, on March 28, the Mayor's Fund to Advance New York City and MOVA announced partnerships with the private sector to end veteran homelessness, with an investment of $750,000. It's not clear yet, however, what the total budget for fiscal 2017 will entail.
"As we've said, we are determining costs for the new agency and expect it to be reflected in the executive budget," said Amy Spitalnick, spokesperson for the Office of Management and Budget. "We look forward to working with the Council on this and more throughout the budget process."
Spitalinick declined to provide details of what the executive budget may include.
Bello from the VAB, a Navy veteran, is not worried about the preliminary budget hearing being scrapped. "As an advocate, I just want them to get it right," he said. He expects significant increases in the budget and said the department could have as many as 35 staffers by the end of the year. "They gotta ramp up personnel. They gotta ramp up services," he added.
City services for military veterans include helping connect them to federal programs and often deal with housing, education, employment, and health care needs.
Bello spoke of the ThriveNYC mental health roadmap the city has released, which touches on veterans, and mentioned conversations with the de Blasio administration on veteran homelessness as well. He wasn't sure if the latter would be directly tackled by the new department or remain under the purview of the Department of Homeless Services.
"I don't know what I'm expecting," said Kristen Rouse, an Army veteran and president and founding director of NYC Veterans Alliance, an advocacy group. Rouse is a bit more skeptical than Bello, insisting on a line-by-line breakdown of the department's budget. "They've never put out a policy paper saying, 'Here's what we're doing on veterans services and here's how much we're spending,'" she said. "The administration has quoted a lot of different numbers to us."
While she appreciates the administration's initiatives, she hopes for an explanation of the budget to the veterans community and outreach for advice from veterans once a hearing is set. "I would hope that members of our community will be notified so we can contribute to it," she said. Bello echoed the sentiment and said the VAB has been soliciting comments online from veterans in the city. "The public and advocates wouldn't be able to give feedback if there wasn't a hearing," he said.
A spokesperson for City Council Member Eric Ulrich, chair of the veterans affairs committee, insisted that the Council will hear from veterans themselves. "We look forward to working collaboratively with all the interested parties to ensure New York City provides the highest level of service to our veterans," said Kevin Tschirhart, Ulrich's director of communications. "Issues regarding the budget will be taken up at the executive budget hearings and will be finalized in coming months."
*** 
by Samar Khurshid, Gotham Gazette
Do you like this post?