The NYC Veterans Alliance event, the Forum on NYC Veterans Policy, was the subject of the Gotham Gazette article listed below, written by Catie Edmondson: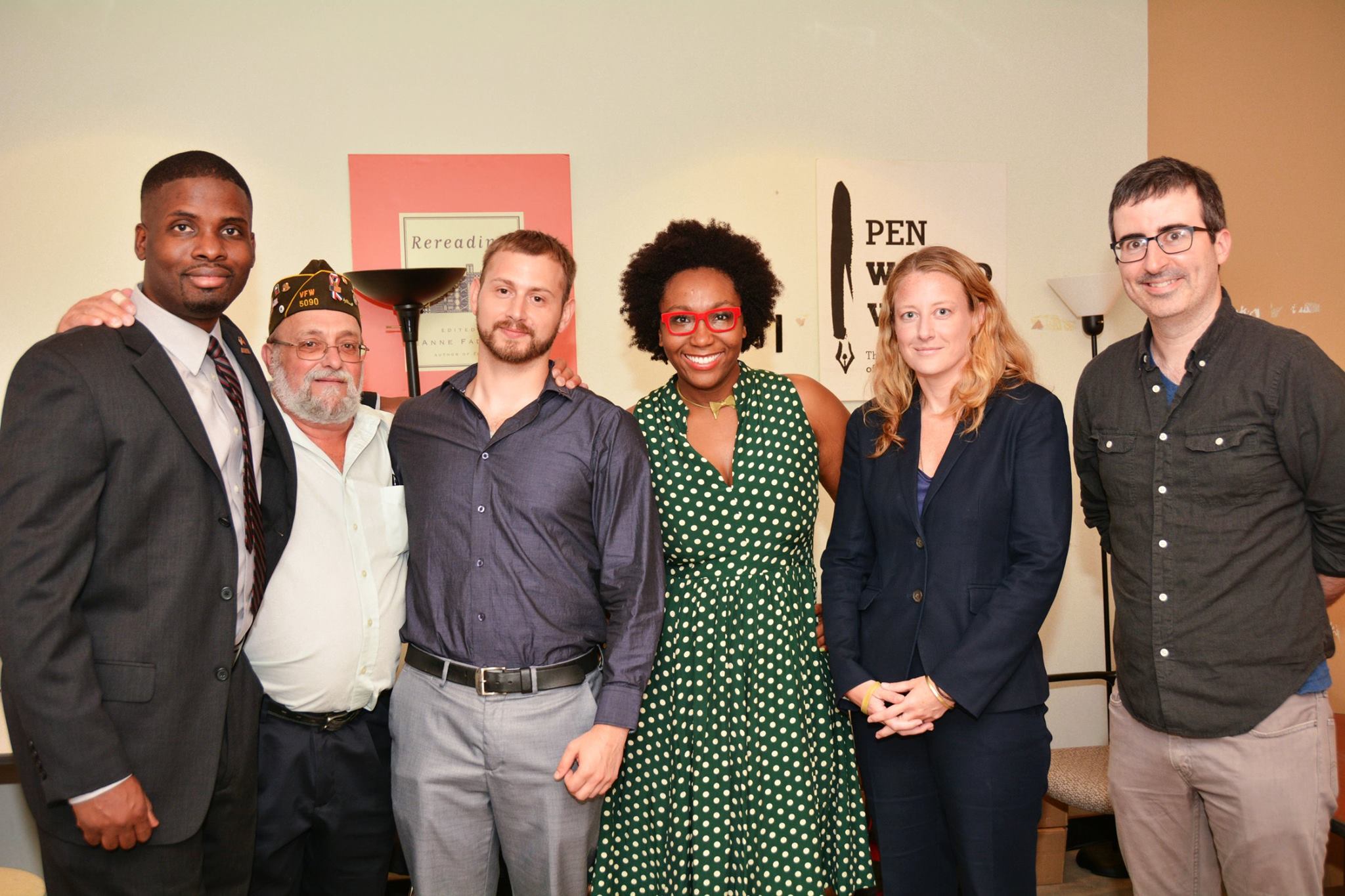 From Tuesday's event (photo: NYC Veterans Alliance via Facebook)
A steady stream of hands shot in the air as the speaker asked audience members to indicate if they had served their country, beginning with Vietnam and ending post-9/11.
At a forum on New York City Veterans Policy Tuesday night, hosted by the New York City Veterans Alliance, veterans and veteran advocates of diverse ages and backgrounds gathered to discuss the issues facing their community, including homelessness, funding for employment, healthcare and other services, and even how to define the term 'veteran.' The event occurred amid ongoing debate over how well city government is attending to veterans' needs and organizing its resources to best provide support to the hundreds of thousands of veterans living in the city.
"I would say different era veterans are having much different experiences in NYC. A lot of the student vets, there's a lot more support for them with the new GI bill, they're doing a lot better overall. And they're a lot more active in honing the community and helping with various student organizations and veterans associations at schools," said Vadim Panasyuk, who served in Iraq and works at Iraq and Afghanistan Veterans of America (IAVA). "But other era veterans that are struggling— from more forgotten conflicts, Korea, Vietnam— those vets are still struggling, and find themselves in legal whirlpool of all the different VSOs [veteran support organizations] and dealing with misinformation from one service provider to another and it becomes very discouraging to seek out help."
Iraq War veteran Tireak Tulloch, a spokesman for IAVA, agreed. "If you're a veteran from a different era, [service providers] don't know what to do with you," Tulloch said.
Vietnam veteran Lee Covino, who recently served as Vice-Chairman of the City's Veterans Advisory Board, described witnessing an "identity crisis."
"You have people who are separated by campaigns...you have a huge population out there and one of the things that irks me is when a vet tells me, 'I'm not a vet,'" Covino said. "That's nonsense. You're an era and you need to organize that way."
The efficacy and availability of resources for veterans was a key part of Tuesday night's discussion, with NYC Veterans Alliance interim director Kristen Rouse noting in her opening remarks that the city committed to a "notable" increase in funding for veterans in the fiscal year 2016 budget.
"I think there's been tremendous progress and the city has come together, but...There's a real sense to me of a lack of cohesion of all these different efforts," said Coco Culhane, the founding director of the Veteran Advocacy Project at the Urban Justice Center. "And there's not a whole lot of infrastructure they can turn to at the city level and especially for veterans who are not eligible for these federal VA dollars. The city is their safety net and we need to be there for them so I think we have a long way to go, even with just acknowledging veterans."
There is conversation at the city level over whether the Mayor's Office of Veterans Affairs, or MOVA, should become its own city agency, removed from within the mayor's office, but still under the mayor's purview. Creating a separate Department of Veterans Affairs, as called for by a City Council bill that has had one public hearing but does not have Mayor Bill de Blasio's support, would likely give work to support veterans more clarity, resources, and oversight.
"You need people who know what they're doing to serve this population and having experts but also having oversight. If we're going to address all of the issues that are included in that report," Rouse told Gotham Gazette referring to the report NYC Veterans Alliance recently released, "if we want to properly address this stuff, there has to be an accountable agency that has programmatic oversight of what these different city agencies are doing." The report, which surveyed almost 500 veterans in the New York metropolitan area, identified veterans' key concerns, including improving access to the VA suicide hotline and increasing oversight of veteran service organizations that receive city funding.
Comedian and television host John Oliver delivered opening remarks describing his experience being married to a veteran. "It's hard being married to a veteran because you can't complain about your day," Oliver quipped. "'Oh, you had a bad day writing jokes? Shut up!'"
But Oliver also took a more serious turn, underlining the importance of doing more than just saying "thank you" to military veterans.
"It's too easy to say 'thank you,' but you're not actually doing anything. There can be a real seduction in people having lovely commercials on TV, introducing veterans at football games, but it's not doing anything to fix infrastructure," Oliver said.
Moderator Phoebe Gavin, an Army veteran who served in Iraq, commented that "the average American is just not very connected to the [military] campaigns that have occurred," adding that many might not have a veteran in family. "There's just not as much connection to campaigns as there used to be...we've been at the mall all this time," Gavin said of most Americans going about their business, like shopping, while a small group serves in the military or has a family member doing so.
In an interview with Gotham Gazette prior to the forum, Oliver highlighted the work organizations Team Rubicon and Mission Continues do to assist veterans' transition back to civilian life. Team Rubicon unites military veterans with first responders to deploy emergency response teams, giving veterans the opportunity to put the skills they learned in the armed forces to use responding to natural disasters.
"They are a good example of providing practical assistance," Oliver said. "And most veterans don't want help, they're not a group that will complain, they don't want to be treated like a charity case. They want to be given opportunities."
Do you like this post?