by Kristen L. Rouse
I hope everyone is getting fired up to make a difference in this year's elections! Veterans and veterans issues are center stage for both parties this year, and we encourage veterans & family members of all political affiliations to get active in the process! Presidential candidates get the limelight with the conventions in Cleveland and Philadelphia—but remember there are more than 33,000 elected offices nationwide, and nearly 100 in NYC alone--many of which are on the ballot this fall.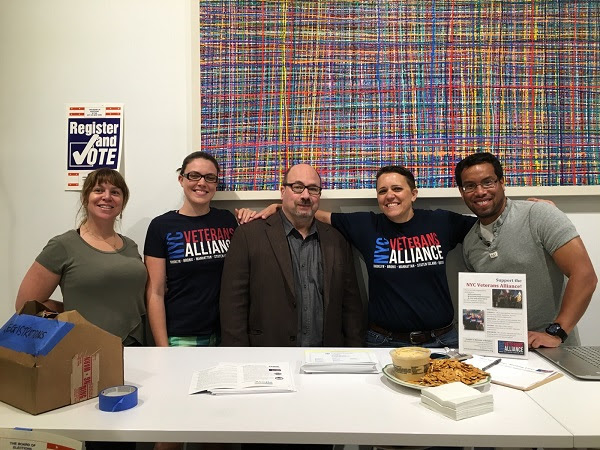 Read more
As part of our mission to empower NYC veterans, we invite our members to join our nonpartisan Get Ready to Run program! Whether you're already planning to run for elected office, or you're interested in becoming more engaged and informed as a civic leader, we hope you'll let us know below that we can include you as part of our program's contact list!
Read more
The NYC Veterans Alliance is proud to announce our partnership with VoteRunLead to urge veterans and their spouses to get ready to run for elected office. Women in particular often need an extra push to view themselves as qualified, capable candidates, so we are truly thrilled to open up VRL's daylong Dare to Lead women's leadership conference to women who have served in any branch of the military, as well as women who are spouses (or widows) of a military member or veteran.
Read more
The weekend of March 18-22 was the official launch of our Get Ready to Run initiative, which took four NYC veterans on a four-day trip to Washington, D.C. The program will involve follow-on support and training for these four veterans, as well as future cohorts that we select, train, and support.
Watch and listen to what our four future candidates have to say about their Get Ready to Run experience during their visit to the Newseum:
Read more
When we served in the military, we relied on our ability to work with others to accomplish the mission. It didn't matter what anyone's politics, religion, background, or other personal attributes were--we were all in it together to serve our country and represent America's best values and leadership in the world. Now that we're home, we're still ready to serve. And as veterans, we're perfectly prepared to work with people who may be very different from us to do the very best we can for our community, our city, and our country. We're not afraid of a challenge, and we're ready and willing to lead.
Read more